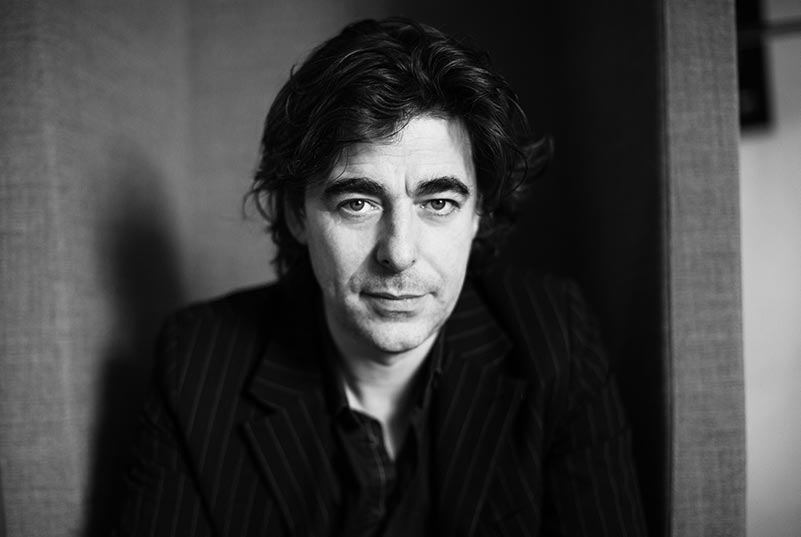 Benoît Delbecq
« A thoughtful chill runs through the music of Benoît Delbecq, a French pianist of investigative temperament and crystalline technique. There's a ton of compressed energy in his playing, but he projects an unflappable calm ». These lines from the New York Times in 2010 by jazz critic Nate Chinen are a pertinent description of Delbecq's undocile music.
Delbecq is a multi-awarded Parisian pianist and composer, a trendsetter who persists in developing his ideas in a very rhythmic and multi-layered approach, bringing the soul of jazz to John Cage's prepared piano. Delbecq may prepare just a few strings with wood sticks, then sit at the piano transforming the instrument into a percussion-and-piano ensemble.
Delbecq is curious with sound (he also uses an electronic set up for some of his projects as in Ambitronix or Plug and Pray), with the rhythm of languages, and with mutating micro-loops he names rhythm fabrics. His musical force weaves some outstanding and compelling works inspired by sources as varied as mathematics, poetry or architecture to name a few.
Since the early nineties, Delbecq's works have received acclaim from legendary musicians such as Mal Waldron, Steve Lacy, György Ligeti, and Steve Coleman, as well as from a long list of critics, peers, and festivals curators globally.
Commencing at the age of 16-years-old, after taking a few years of classical piano lessons from the age of 6 , Benoit Delbecq studied improvised music with free music pioneer Alan Silva, the founder of the Institute for Artistic and Cultural Perception in Paris. By the age of 19, he was already studying sound engineering and acoustics. He joined Silva's Celestrial Communication Orchestra, while jazz giant Mal Waldron mentored him, encouraging him to seek out his own musical ideas. Once his sound engineering studies were completed, Delbecq participated in a couple of jazz workshops at the Banff Centre where he studied with Dave Holland, Steve Coleman, Muhal Richard Abrams, among others greats. He also studied composition and music analysis with Solange Ancona, a former student of Olivier Messiaen.
For composing, Delbecq uses his own graphic notation made of circles and calligrams, giving his music a particular pace and rhythmicity. Most recently, Delbecq has been studying piano techniques with maestro Jay Gottlieb in Paris as well as with the late Sofia Rosoff in New York. Besides being a performer, a composer and a producer, Delbecq instructs at workshops and master classes across the globe.
Delbecq's works include regular collaborations with Evan Parker, Michael Moore, the late Jean-Jacques Avenel, Mark Turner, John Hébert, Steve Argüelles, Gerald Cleaver, Marc Ducret, Guillaume Orti, Noël Akchoté, Mark Helias, Fred Hersch, Andy Milne, Ethan Iverson, Kris Davis, Jozef Dumoulin, Mike Ladd, Mary Halvorson, Taylor Ho Bynum, Tomas Fujiwara, François Houle, Gerry Hemingway, Toma Gouband, Samuel Blaser, Masa Kamaguchi, Emile Biayenda, Miles Perkin, Robin Fincker, Hubert Dupont, Sylvain Darrifourcq, Robin Verheyen, Clemens Van de Feen, Toma Gouband, Nelson Veras, Jonas Burwinkel, Petter Eldh, Tim Berne, Tom Rainey, Lotte Anker, Hubert Dupont, Sarah Murcia, Olivier Py, François Thuillier, Mario Costa, Stéphane Galland, Petter Bruun, Claudia Solal, Sarah Murcia, Kim Myhr, Michele Rabbia, Maria Pia de Vito, Jim Black, Jorri Dijsktra, John Hollenbeck, Oene Van Geel, Mandhira de Saram, Jonas Burgwinkel, Petter Eldh, Jorrit Dijsktra, John Hollenbeck, Dave King, Grdon Gordina, Kenton Loewen and numerous others.
Delbecq has been active as the founder of the Hask Collective Paris (1992-2004) and is presently a founding member of Bureau de Son Paris (2008) and the dStream label. He is involved regularly on the film music scene as well as with theatre, dance, and literature. As a leader, he is a solo pianist, leads his trio Delbecq 3, his quartet Delbecq 4, and performs as a member of a large number of collective bands as well as performing as a sideman. His first record as a leader, a quartet entitled Paintings with Guillaume Orti, Joe Carver, and Steve Argüelles was released on Deux Z (FR) in 1992.
Born in 1966, a father of three, Delbecq lives in Bondy, near Paris.