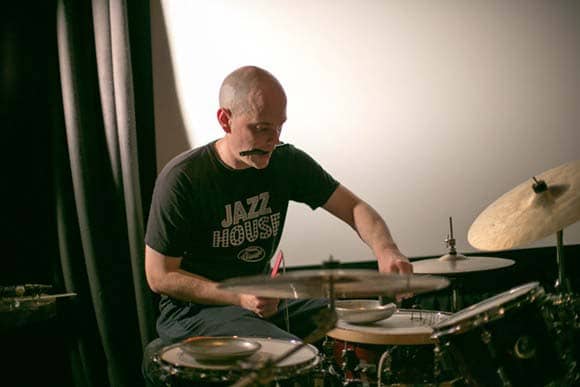 Chris Corsano
Chris Corsano (b. 1975, USA) is an upstate NY-based drummer who has been active at the intersections of collective improvisation, free jazz, avant-rock, and noise music since the late 1990's. He began a long-standing, high-energy musical partnership with saxophonist Paul Flaherty in 1998. Their style, which they occasionally refer to with (semi-)tongue-in-cheek humor as "The Hated Music", combines modern free-jazz's ecstatic collectivist spirit and the urgency and intensity of hardcore punk.
A move from western Massachusetts to the UK in 2005 led Corsano to develop his solo music–a dynamic, spontaneously-composed amalgam of extended techniques for drum set and non-percussive instruments of his own making: e.g. bowed violin strings stretched across drum heads, modified reed instruments, and stockpiles of resonant metal. In February 2006, Corsano released his first solo recording, The Young Cricketer, and toured extensively throughout Europe, USA, Australia, and Japan. He spent 2007 and '08 as the drummer on Björk's Volta world tour, all the while weaving in shows and recordings on his days off with the likes of Evan Parker, Virginia Genta, C. Spencer Yeh, and Jandek.
Moving back to the U.S. in 2009, Corsano returned focus to his own projects, including a duo with Michael Flower, Vampire Belt (with Bill Nace), Rangda (with Richard Bishop and Ben Chasny) and his solo work, further expanded in its use of contact microphones and synthesizers. In 2017, he received the Foundation for Contemporary Arts Grants to Artist Award.
Corsano's dedication to collective improvisation has led to collaborations with many kindred spirits and his appearance on over 150 records and 1000 live performances. He's worked with, among others: Paul Dunmall (released by the label: ESP-Disk), Joe McPhee (Roaratorio), Okkyung Lee (Open Mouth), Mette Rasmussen (Hot Cars Warp Records & Clean Feed), John Edwards (OTOroku & Dancing Wayang), Sylvie Courvoisier (Relative Pitch), Nate Wooley (No Business & Astral Spirits), Jim O'Rourke & Akira Sakata (Drag City & Polystar), Merzbow (Family Vineyard), Jessica Rylan (Load Records), Nels Cline (Strange Attractors), Heather Leigh (Volcanic Tongue), Ghédalia Tazartès (Ultra Eczema), Ken Vandermark (Audiographic), and Sunburned Hand Of Man (Manhand).