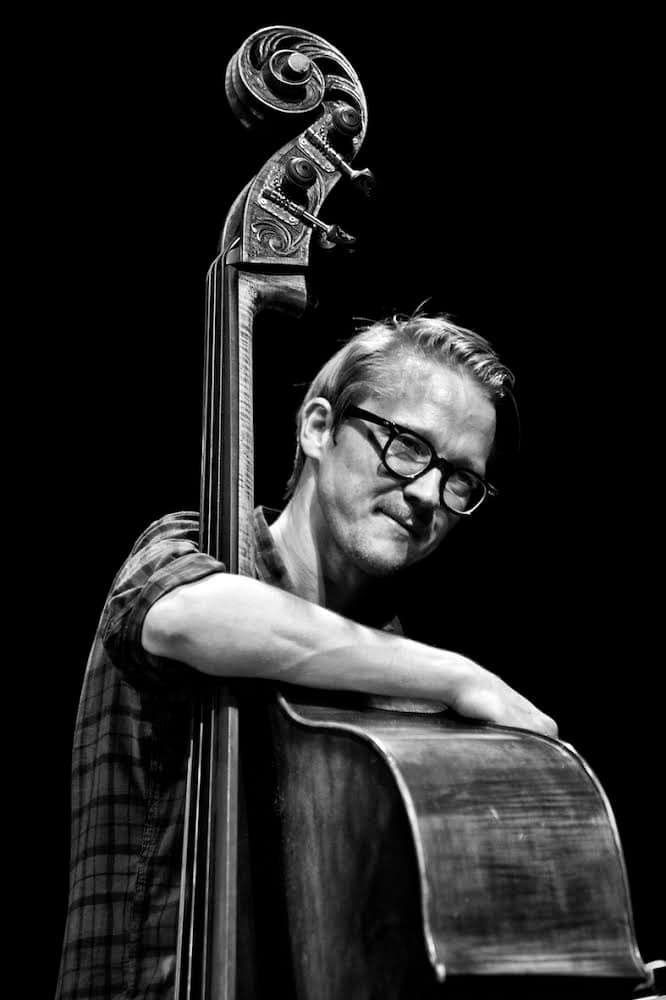 Eivind Opsvik
Born in Oslo, bassist and composer Eivind Opsvik was introduced to music at home. His father loved to play the saxophone and constantly spun records—everything from Ornette Coleman to Billie Holiday and The Beatles. An early memory features Eivind on drums, jamming out "A Hard Day's Night" with his father. Later, a denim-clad rocker cousin lent him a bass guitar and the newfound ability of adding pitch to rhythm was a revelation. Opsvik spent the rest of his teens getting to know this instrument, as well as the double bass, while also experimenting with a 4-track tape recorder and pouring music into his head.
At the age of twenty, Opsvik began studies at the Norwegian Academy of Music, focusing on classical bass. By then, he was already an active participant in Oslo's vibrant jazz scene, regularly playing with musicians like Paal Nilssen-Love, Christian Wallumrød, Bjørnar Andresen, and Håkon Kornstad; while also performing at festivals and clubs around Europe.
In 1998, Opsvik relocated to New York City, where he has thrived as a working musician, collaborating on projects with among others Anthony Braxton, Paul Motian, John Zorn, Nate Wooley, and Bill Frisell and performing in a wide range of venues like Carnegie Hall, Village Vanguard, Le Poisson Rouge and The Stone. At the Manhattan School of Music he studied jazz and met some of his closest musical brothers, including Loren Stillman, Jeff Davis, and Jacob Sacks. Building on the bonds and shared musical understanding that developed while at school, Eivind invited these players to help him fulfill his vision for the solo project, Overseas.
Opsvik has stated that "overseas" is a fitting way of describing his life—whether in New York or Norway, he is always an ocean's distance from home. As he continued his journey through the city via late night gigs and daytime sessions, Opsvik connected with other players—visionaries versed in noise improv, electronic, jazz, and classical—who, on subsequent Overseas records, were brought in to augment the lineup. Since 2005, the band has remained consistent, featuring Tony Malaby, Jacob Sacks, and Kenny Wollesen; in 2010, guitarist Brandon Seabrook also became a regular member. Over the years, they have played countless shows around New York City, as well as extensively toured Europe and the American east coast.
In addition to five Overseas albums and his extensive session work, Opsvik's discography also includes four experimental chamber-pop records made in collaboration with songwriter Aaron Jennings (under the moniker of Opsvik & Jennings) and a multimedia project with photographer Michelle Arcila, which pairs tens songs with ten photographic prints. This project, titled A Thousand Ancestors, came out of Opsvik's solo double bass performances, which sometimes featured projections of Arcila's photographs. In recording these bass-centric pieces, he would layer bass with subtle overdubs of lap steel guitar, vintage keyboards, and drum machines, with Arcila's prints displayed around the studio. The project proved to be an auspicious collaboration for the couple, who, as The New York Times put it, "share an aesthetic of haunting introspection, and the desire to seek out beauty in austerity."
Other critics have described Opsvik's work as "sonorous," "like a waking dream," and able "to transport the listener to another time and place, creating a cinematic experience…[like] the soundtrack to an imaginary film." His Overseas records create "a world of unfolding soundscapes" that defy categorization; they have "a compositional complexity that suggests jazz, [but] also references a diverse and imaginative palette of genres and influences." Opsvik's jazz is "the slow burn, down-turned variety that still has plenty of beauty underneath all of its darker undertones." But it's not just jazz for jazz-heads. By tapping into the energy, groove, and directness of rock, Opsvik reach people who are afraid of jazz and think they have to "understand" it.
Ultimately, Opsvik is the epitome of a multi-faceted, multi-instrumentalist working musician. While steadily playing gigs and recording sessions as a bass player, he is also a capable hand on the guitar, the keyboard, or behind the drums. At the Greenwood Underground, his basement studio, Opsvik records, mixes, and produces his own music, as well as various projects for his friends. Since 2007, he has also been running the Loyal Label, releasing a carefully curated catalog of albums, which run the gamut in terms of musical exploration but are all united with careful aesthetic choices and creative graphic design.
Maturing as a musician, Eivind never wanted to be up front in the band, but it would be incorrect to say he's been hiding. As a kid, watching bands perform on Norway's only TV channel, his gaze was instinctively drawn to the rhythm section, waiting for the camera to move the tight frame off the singer so that he could catch a glimpse of the bass player's steady hands or the drummer's hypnotic concentration. The rhythm section were the guys with their heads down doing the real work. Adolescent instincts are pure in that they don't know why they want what they want, but the quiet and focused dignity that Eivind honed in on has driven his life for the past 30 years.
Eivind is also currently a part of these bands/projects: Tony Malaby's Paloma Recio, Die Trommel Fatale, Okkyung Lee's Yeo-neun, Nate Wooley Quintet, Tone Collector, Two Miles A Day (w Jacob Sacks and Mat Maneri), Anthony Braxton's Tristano Project, Vinnie Sperrazza's Apocryphal, David Binney Quartet, Dan Weiss Trio, Jeff Davis Trio with Russ Lossing, Mary Halvorson's Reverse Blue, Flin van Hemmen's Drums of Days, Plainville, Kris Davis' Capricorn Climber, Harris Eisenstadt Trio (plays Zorn Bagatelles), Rocket Engine, Poor Pluto …and more