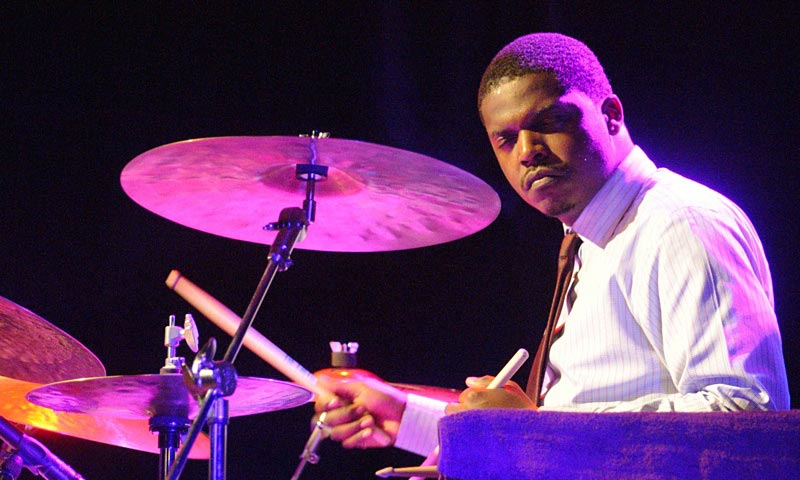 Justin Faulkner
Drummer, Justin Faulkner of Philadelphia has been playing since he was barely old enough to walk. Beating through the heads of pots, pans and anything that would make a sound at an early age, this gifted, soft spoken, articulate, musician was born to play. Justin's training began at the Girard Academic High School Music Program. His formal education, starting at age 7, included studying classical music with Sue Jones, jazz/classical drums and percussion with Samuel Ruttenberg at the Settlement Music School, small group ensembles at the Clef Club of Jazz and Performing Arts, and instruction with the Principal Timpanist of the Philadelphia Orchestra, Don Liuzzi.
Justin as a child prodigy entered onto the jazz scene at the tender age of 13 playing his first professional gig with bassist Jamaaladeen Tacoma. Since then, he has compiled an impressive resume playing with the likes of Peter Nero, Jimmy Heath, Orrin Evans, Sean Jones, Tim Warfield, Bernard Purdie, Pharoah Saunders, Terence Blanchard, Mingus Big Band/Dynasty/Orchestra, Bootsie Barnes, Jacky Terrasson, Terrence Howard, Bilal, Christian McBride and is the drummer of choice for numerous others.
In March 2009, Justin added the drum chair for the Branford Marsalis Quartet to his list of accomplishments. His journey has included stops at the Clef Club of Jazz and Performing Arts and the Art Museum (Philadelphia), The Michener Museum (Doylestown, PA). As a world renowned musician, Faulkner has been blessed to tour and visit many well-known venues, cities, countries and continents. A few of these include The Kennedy Center, Jazz at Lincoln Center, The Sydney Opera House (Sydney, Australia), The Blue Note Jazz Club (Tokyo, Japan), Concertgebouw (Amsterdam, Netherlands).
Faulkner is grateful for every opportunity he has to share his gift of music with the world. A conscientious naturally-talented student of music, nicknamed "the Assassin," Justin asserts that prayer, spiritual reflection and focused practice are the center of his playing. He is selfless in his playing as he recognizes it is not about him, it's about the music. He credits his relationship with God and his mother as the biggest influences in his life.