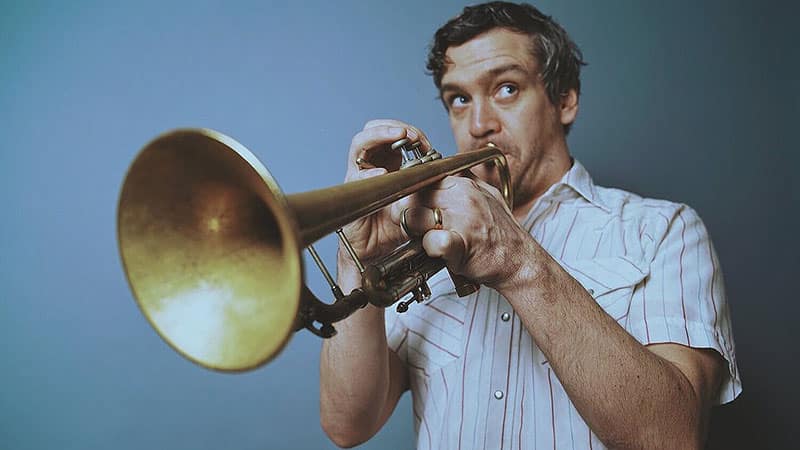 Kenny Warren
Kenny Warren grew up in Denver CO, where he was inspired at a young age by local trumpet greats Ron Miles, Al Hood and Greg Gisbert. In 2002 he moved to New York to study jazz at SUNY Purchase where he met collaborators like Bobby Avey and JP Schlegelmilch. After graduating in 2006, he moved to Brooklyn and quickly became an active member of the improvised music scene. He has performed with a who's who of improvisors from his generation as well as with luminaries like Tony Malaby, Chris Speed, Angelica Sanchez and Brad Shepik.
Joining the brass band Slavic Soul Party in 2008 began the expansion of Warren's melodic concept to include Roma music and Arabic maqam language. As a composer Warren's music was first featured on 2 albums by instrumental rock collective NOOK. In 2010 Warren formed Laila and Smitty, named after his great aunt and uncle. That band which started out playing country-blues standards and Warren's folksier compositions, evolved into a singular avant-song-writing outfit which Bird is the Worm calls "massively genuine and unabashedly heart-on-the-sleeve open and honest". Laila and Smitty has released 3 LPs, most recently in 2019 on happylucky records. Meanwhile Warren continued to develop as a free improvisor, recording records in 2014 with the collective ZhirtZ n ZkinZ (Sulde) and in 2015 with The Sandra Weiss Quintet (Leo Records).
In 2017, The Kenny Warren Quartet released Thank You For Coming to Life (Whirlwind Recordings) which highlights Warren as a jazz composer and soloist. The album was heralded as "Boldly creative and superbly orchestrated…A masterful album… Stunning." by Radio REC. In 2018 Warren released YLA (promnight), a solo cassette which resulted from a series of home recording experiments done on a creative retreat to California that winter. In April 2020 Whirlwind released Warren's trio record called In The Heat, featuring Matthias Pichler on bass and Nathan Ellman-Bell on drums.
During the covid era Warren focused on home recordings and released, a solo trumpet record called Forehead, and series of electronic music EPs is available exclusively on his bandcamp page.
His latest projects include a trio with Christopher Hoffman and Nathan Ellman-Bell called Sweet World, a duo with Bobby Avey, both of which will be recording new albums in 2023.