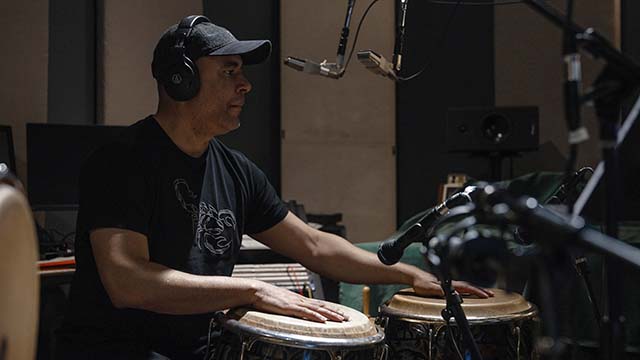 Mauricio Herrera
Mauricio Herrera is from the eastern province of Holguin, Cuba. The interest in music comes from the musical legacy of his family but He first entered the world of music was at age 7 playing violin, but by 14 began studying percussion where he found his niche. After graduation from the Jose Maria Ochoa Conservatory in Holguin, he began playing in various local popular and folkloric groups and was on faculty at Escuela Vocacional de Arte. In 1994 he moved to La Habana to broaden his horizons, where he played, toured, and recorded with several of the most prominent Popular bands in the Nineties in Cuba as  Paulito FG y su Elite, Manolito Simonet y su trabuco, Manolín el Medico de la salsa, Pachito Alonso y sus Kini Kini. Juan Kemmel y la Barriada, Hector Valentin, Angel Bonne., In 2001 he relocated to Mexico where he played with several projects including Otra Idea Orquestra, Amaury Gutierrez, David Torrens, and many others.
In 2005 Mauricio moved to New York where he currently resides.  He has played, recorded and toured with: David Sanchez, Stefon Harris, Nicholas Payton, Christian Scott – 90 Miles Project,  Gonzalo Rubalcaba, Ignacio Berroa, Yerba Buena, Lila Downs, Manuel Valera and the New Cuban Express, Alfredo de la Fe, Bryan Lynch, Luis Perdomo, The Rodriguez Brothers, Dave Samuels and The Caribbean Jazz Project, Hector Martignon, Batyr Shukenov, La India, Spanish Harlem Orquestra, Steve Coleman, Jackie Terrasson, John Benitez, Mark Weinstein, Lew Soloff, Aruan Ortiz, Candido Camero, Yerba Buena, Osmany Paredes , Pedro Martinez y Grupo Ibboru, Cimarron project, Francisco Mela, Robby Ameen featuring Ruben Blades, Yosvany Terry Afrocuban Roots & Sextet and many others.
Mauricio Herrera Has Given Concerts and Master Classes in Different Music Colleges and Universities as,  Boys & Girls Harbor ,The Banff Centre in Canada, Berklee College of music, Yale University, Harvard University, Stanford University,  JAZZUV University in Xalapa Mexico. and also performing around the World with Several major artists from the Scene of Jazz and other Musical Genres.
Mauricio is Currently Endorsed by Latin Percussion LP and Vic Firth Drum Sticks.