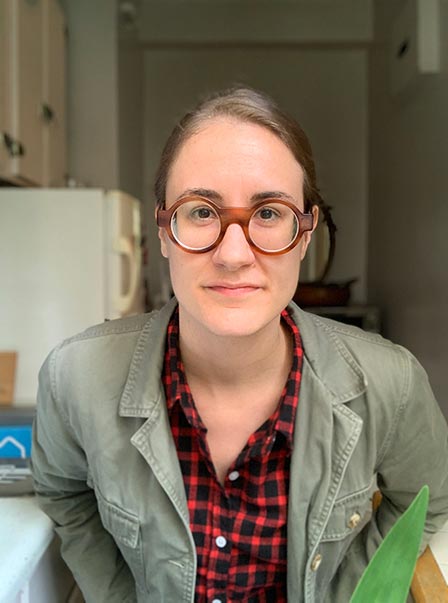 Megan Schubert
Megan Schubert, vocalist and composer, has performed music by Stockhausen for an audience under umbrellas in a torrential downpour for Make Music New York; world premieres at Carnegie Hall; with robots while locked inside a Van de Graaff Generator at Boston's Museum of Science; on a bike flying by the audience in an installation piece at McCarren Park Pool, Brooklyn; with Cambodian master of classical dance, Proeung Chhieng; in a giant potato sack while video was projected onto her frontside at Webster Hall; for inmates at a maximum security prison in Ossining, NY; with puppets at E 4th Street Fab! Fest; for Elliot Carter at a celebration of his 100th birthday; shared the stage on multiple occasions with such luminaries as Meredith Monk, Bang On a Can, and with many ensembles championing art music and experimental jazz of today.
In recent years, Schubert sang in the premieres of large works by Robert Ashley, Luigi Nono (with Ekmeles), Georges Aperghis, Bernard Rands, James Ilgenfritz, Sonia Megías, Jenny O. Johnson, Annea Lockwood, Nick Hallett, Kitty Brazelton, Sasha Zamler-Carhart, Inhyn Kim, Nate Wooley (Psalms from Hell, and for Anna Sperber's The Superseded Third, Seven Storey Mountain V–later version, Seven Storey Mountain VI–Belgium and New York versions), Jonathan Bepler (with Matthew Barney for opera film River of Fundament and newest film REDOUBT (2019), for John Jasperse's Within Between, for Wally Cardona & Jennifer Lacey's The Set Up, and Cardona's GIVEN IN THE BLACKBOX), Cally Spooner, Kristen Volness, Guy Barash, David Friend, Christian Frederickson, Tino Sehgal (Public Art Fund production of "This You"), Charlie Looker, Matt Fagen, Allen Shawn, Tina Davidson, Alison Nowak, Eve Beglarian, and in new productions of operas by Denman Maroney and Jason Cady. Schubert gave the Canadian premiere of David Lang's "death speaks" as part of the Honens Festival in Calgary, AB.
Judd Greenstein, Tracy K. Smith, and Joshua Frankel's A Marvelous Order (as Jane Jacobs) received a pre-premiere/preview at Williams College, and the full premiere TBD 2021. QUARTET, a composer's lab was produced by Schubert, presented world premieres by and with Schubert, Gelsey Bell, Anaïs Maviel and joined by Yoon Sun Choi at Roulette and as part of Lady Fest at The Tank.
Schubert, longtime assistant to opera director Rhoda Levine, and the late Moog synthesizer pioneer, composer, conductor and pianist Gershon Kingsley, holds degrees from Bennington College and Manhattan School of Music where she studied with Lucy Shelton. She co-founded the Avant Music Festival and co-curated years 2010-2015. She studied opera with tenor/actor Anthony Laciura (Boardwalk Empire, MET opera). She is also a professional chorister and member of the Fifth Avenue Presbyterian Church chamber choir.