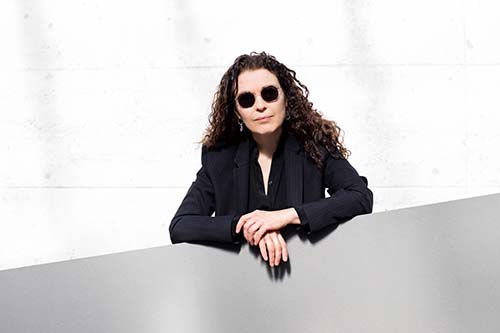 Sylvie Courvoisier
Pianist/composer
Sylvie Courvoisier
has led several groups over the years and has recorded 8 albums as a band leader – solo, in Trio with with Kenny Wollesen & Drew Gress or leading other ensembles (Lonelyville ,Abaton, Ocre ) and appeared in about 50 albums (25 Cds co-leader and 25 cds as a side person)  for different labels, notably ECM , Tzadik and Intakt Records.
Courvoisier has performed and recorded with John Zorn, Yusef Lateef, Mark Feldman, Erik Friedlander, Tim Berne, Nate Wooley, Susie Ibarra,  Wadada Leo Smith and the flamenco dancer Israel Galvan among others.
Currently, she is  the leader her own Trio with Kenny Wollesen and Drew Gress  ; co-leads Miller's Tale Quartet with Evan Parker, Ikue Mori and Mark Feldman and is a member of Mephista. Since 1997, she performs regularly in solo and in Duo with Mark Feldman.