Kris Davis & The Sound Finds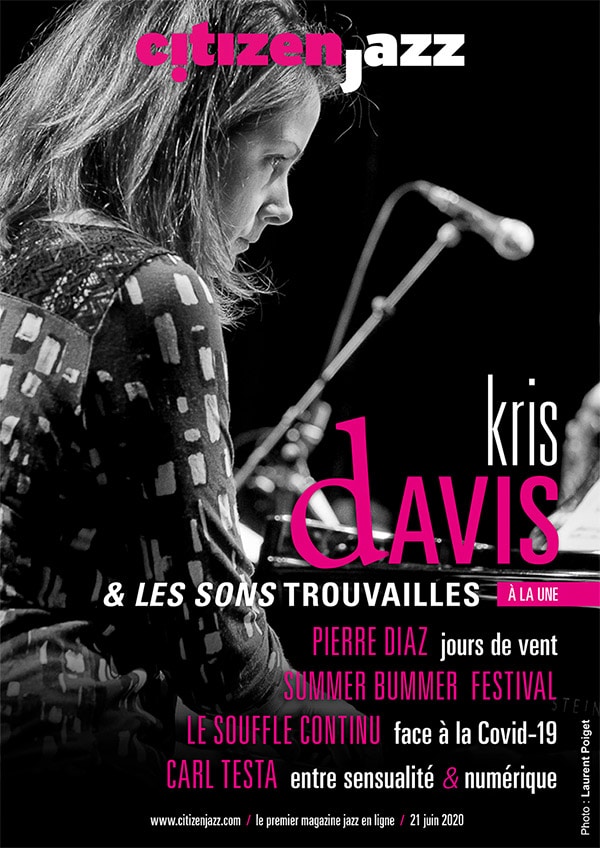 Ms. Davis is a calm and wise person who, despite her double award for Best Composer / Pianist in the annual North American Jazz Journalist's Award, keeps her feet firmly on the ground. Teacher at Berklee College of Music, commissioned artist at the Monheim Triennale (postponed in 2021), active member of Terry Linn Carington's or Ingrid Laubrock's bands, she continues to be interested in others, to care, to share, to transmit.
In addition to her group Diatom Ribbons, which brings together two different musical universes she has worked with and which has been acclaimed by international critics, Kris Davis is also at the piano in an amazing quartet, bringing together the Norwegians Øyvind Skarbø, Ole Morten Vågan and the Swede Fredrik Ljungkvist. Finally, this year without a performance or a concert, is still a year of success, since a magnificent duo with his regular playing partner, the German and New York saxophonist Ingrid Laubrock, has been released.
– Where do you come from, musically and / or personally?
I grew up in Calgary, Alberta, Canada and started playing the piano at the age of 6. I studied classical piano until I was 13 and then joined the high school jazz group. Shortly after, I decided that I wanted to become a professional jazz pianist. I studied the jazz tradition for many years, I did a lot of concerts playing jazz standards, and I finally landed on the improvised music scene when I moved to New York in 2001.
– You have just won the prize for the best composer and the best pianist of the year 2020 awarded by the Jazz Journalists Association. What does it bring you? What do you think ?
I am truly honored to have been elected jazz composer and pianist of the year by the Association of Jazz Journalists. The critics are passionate and knowledgeable listeners of this art form and to be recognized as an artist who has an impact as a composer and pianist of jazz is simply breathtaking and it is a confirmation. I hope that many opportunities will arise from this award and that I will be able to continue to create and present new works that both appeal to and inspire the public.
– You have also been selected for the Monheim Triennale, which was postponed due to confinement. How did you experience this period of confinement? What do the next months look like for you professionally?
For many artists, including myself, confinement has been a blow to my work. I was to play for the first time as a leader at Village Vanguard in April, with the group from my new album Diatom Ribbons . I also had to perform at Canadian, European and American jazz festivals this summer with Diatom Ribbons. All of this was canceled or postponed to 2021.
In addition to these dates as a leader, it was also planned that I would present a silent film project in collaboration with the filmmaker Mimi Chakarova at the Boulez Saal in Berlin in April and at the Monheim Triennale in July. I also canceled several tours for the Charlie Parker project at 100 , directed byTerri Lyne Carrington and Rudesh Mahanthappa . Many of these dates have been postponed to 2021 or canceled.
I HAVE ALWAYS HATED HAVING MY PICTURE TAKEN AND THAT IS WHY I DECIDED VERY EARLY TO DOCUMENT CERTAIN MOMENTS BY SOUND RATHER THAN IMAGES.
Since confinement, I have spent the past few months relaxing and spending time with my family. My son is in elementary school and I spend half the day teaching him at home and the other half practicing a little and doing exercises. I struggled to be creative during this time, so I focused on maintaining my technique by practicing classical music and applying my creativity to other activities, like cooking!
– You have participated in many exciting projects in the past two years. What motivates you so much in your artistic choices?
I am motivated by a moment and the experiences of that moment, what I learn, who I work with, what I listen to and what happens in my inner and outer world. I have always hated having my picture taken and that is why I decided very early to document certain moments by sound rather than images.
I have practically recorded one album per year since I moved to New York and I consider that these recordings are only testimonies of a certain period. Since 2018, my collaborations have grown considerably and my musical life took a major turn when Terri Lyne Carrington asked me to play with her in 2018. I have always been a fan of her game and when she asked me playing with his group in Taipei, I was really looking forward to where it could lead. Shortly after this concert, Geri Allen died and Terri asked me if I would like to play a series of concerts in her honor.
I didn't know Geri's music very well, but I saw it as an opportunity to learn more about her and her music. We played his compositions – studying the scores and playing the music is really the best way to get to know any work. Terri felt that there was a connection between Geri's play and mine because both were versed in jazz as well as avant-garde and shared similar influences, from Herbie Hancock to Cecil Taylor .
During this period, I asked Terri and Val Jeanty , the DJ who participated in the concerts in honor of Geri, to play an improvised concert with me during my week at Stone in New York. It was a memorable concert, Terri's first improvised concert in fact. After that, I decided to make an album combining this new team with longtime collaborators, such as Tony Malaby and Trevor Dunn . The result was my last album Diatom Ribbons .
IT IS IMPORTANT TO DISCUSS GENDER ISSUES IN JAZZ, BECAUSE THIS IS HOW PEOPLE BECOME AWARE OF THESE ISSUES AND THAT PROGRESSIVE CHANGES TAKE PLACE.
In addition to this work, Terri offered me a position at Berklee, where she teaches, in her new Institute for Jazz and Gender Justice . I started practicing at Berklee in September where I teach with one group on free improvisation and with another on contemporary composition. We also receive many guests every semester who discuss issues related to gender equality and inclusion in jazz.
– It's really interesting. To what extent have you evolved on gender issues in music and jazz?
This is a question that is often addressed in interviews and in education, an area in which I am very involved. I think it is important to discuss gender issues in jazz, because that is how people become aware of these issues and that progressive change takes place. In my work, I focus on discussing gender equality with young musicians, because they are the ones who will ultimately contribute to the paradigm shift.
– Have you experienced situations concerning gender issues in your life as a musician? And now has that changed?
Of course, there is an increased awareness of gender issues, not just in music but in all areas. I think progress has been made, but again I am focusing on the younger generation to raise awareness of these issues, as I truly believe that they are the ones who will have a significant impact on change.
– You play very creative and improvised music and jazz journalists use words to describe it, words which do not necessarily speak of music but of atmosphere. Do you read the reviews? How do you find the journalistic approach to your work?
I read reviews of my albums – I always appreciate people who take the time to listen and write about their experiences with my music. In general, I find that the journalists have always supported the work.
I once heard critic Bill Cole tell a story about Herbie Hancock : Bill had criticized a new album that Herbie had released in the 60s and had written a negative review. Herbie then called Bill and asked him why he wrote a negative review. Herbie explained to Bill how difficult it is to get by as a musician and that such a scathing criticism would make it difficult for him to sell records and would make him lose part of his income. It really hit Bill and he stopped being critical after that, realizing that he didn't want to make a negative contribution to anyone's music career because he knew it was a hard way to go.
I THINK INGRID LAUBROCK IS ONE OF THE MOST UNDERRATED COMPOSERS OF OUR TIME
I do not know if this thought affects other critics, but I think there is an awareness of the difficulty for artists to continue to release albums, especially in our time. And if a reviewer doesn't like it, he / she always has the option of not evaluating the project. I feel very privileged by the fact that over the years, critics have supported my work.
– You have been working for a long time with the saxophonist Ingrid Laubrock in different orchestral contexts and you are now releasing a duet called Blood Moon . What do you share musically with her?
Ingrid and I share the same musical temperament. I personally think that Ingrid Laubrock is one of the most underrated composers of our time.
– Why do you say that?
Because I believe that it has not received the recognition that should benefit a person who invented his own language and did a colossal job.
I learned so much from her: she absolutely has her own voice and a unique language as an improviser and composer. We first played in my living room 12 years ago with Tyshawn Soreyand there was an instant musical alchemy. I then knew that she would be an important musical collaborator. Since then, we have worked together in many contexts: she played in my group Capricorn Climber, I played in her group Anti-house and her orchestra project, and we started to play in trio with Tyshawn Sorey, under the name of Paradoxical Frog.
– You work, in particular on this duo, the composition and the microtonal approach of the instrument. What technique do you use for this?
I don't really know much about microtonal approaches – I'm mostly interested in the piano's response to microtones and I'm trying to figure out how to frame or accompany them on an instrument that can't instantly go into microtones (but who can if the piano is tuned this way, like on a recording made recently with Hafez Modirzadeh ).
– In Blood Moon , there are slippery sounds and strange sound layers which are not usual with a duo of saxophones… where does it come from?
Ingrid uses microtones in her compositions, as we can hear in her song "Blood Moon". I think she wrote this piece because she always takes into account the players for whom she writes: we have experienced this kind of sound (microtones on the saxophone with the piano) for many years when we improvise, by finding a means of framing the microtones when we are accompanied by the piano and something that resembles our unique language as a duet.
– On the technical level, what do you remember from your meeting with Benoît Delbecq?
I continue to use the piano technique prepared in my work – I love the variety of textures it allows and Benoît is the person who made me discover this possibility (with John Cage).
I also like the fact that it creates found or unexpected sounds.
"SOUND FINDS" HAVE BECOME IMPORTANT IN MY CONCEPTUAL APPROACH AS IMPROVISER
Certain forms which fall under the hand of the pianist have a certain sound, for example, when you place your hand in the C position and the fingers 1, 2, 3, 4, 5 play the notes C, D, E, F, ground. If you prepare one or two of these notes that I just mentioned, you suddenly add an unknown to the gesture depending on the materials you use.
This can produce a percussive sound, a harmonic that gives the impression that you are jumping an octave up for that note.
The addition of this unknown element when I improvise corresponds to my conceptual approach to improvisation in the sense that I can make music from anything, and discover music in this "sound find" is really what improvisation is.
– It's almost like improvising in improvisation! You are talking about the essence of this music: surprise, the unknown, the unexpected, the disconcerting. Do you agree ?
Yes. As an improviser, I always try to really improvise, to do something that I have never done before. As an experienced improviser, it becomes more and more difficult because you end up developing a lexicon of ideas and sounds. It is important to develop your own language, but there is a delicate balance between personal language and the use of language that is really improvisational in nature. This is why "sound finds" have become important in my conceptual approach to improvisation.
– Do you think there is a community of spirit, a sorority between Mary Halvorson, Ingrid Laubrock and you? There are many bridges between the three of you.
Mary, Ingrid and I have been playing together for 10 years now in various projects, and the three of us work together in Ingrid's group, Anti-House. We all come from different backgrounds and experiences, but yes, I think we share a community of spirit, as composers, improvisers, craftswomen and risk takers. There is a feeling of mutual admiration and support between the three of us, which is both refreshing and comforting. I think it takes a while to find your "people", especially in New York. I was in New York for 8 years before meeting Ingrid and Mary Halvorsonand when I started working with them, it was a trigger. I felt a sense of acceptance and support that continues today, even if we play with other people and develop new projects.
– What music do you listen to for fun, at home or on the go?
I listen to a wide range of music, from Andrew Hill to Anderson Paak. From Boulez to Cecil Taylor, from Scarlatti to the birds of the Amazon rainforest. When you asked if music works as a universal language, I think it absolutely is IF your ears and your mind are open to it. Organized sound is universal – even random sounds are universal because we, as listeners, have the ability to organize it in our mind. John Cage talks a lot about this.
AMERICA IS FULL OF WONDERFUL, PASSIONATE, INTELLIGENT, CREATIVE AND GENEROUS PEOPLE. PEOPLE WITH HEART AND COMMON SENSE.
– As we speak, there is this pandemic going on – and New York has been hit hard – and also (again) protests in the United States against the overtly racist policies of Trump and his cronies. What is your position as a citizen? Are you afraid of the future?
My heart is broken. Disappointed.
America is broken. It has been for a long time.
All these terrible events only reveal the failure of the system. Racism. Misogyny. Lack of respect for all human life. Indifference to the health of our planet. I consider myself an optimistic person, but I have a lot of trouble keeping hope these days.
In my experience as a foreign national, America is full of wonderful, passionate, intelligent, creative and generous people. People with heart and common sense.
When I moved to New York 19 years ago, I knew I wanted to stay there for good. Since living in the United States, I have slowly learned for myself how deeply rooted racism is in American history and culture, especially as a jazz musician who works with many Blacks and Métis . I discovered that fundamental human rights are not respected in the United States.
Yes, it is indeed a dark period for the United States. I hope real and lasting change will eventually happen by lifting the veil on the ugliness that characterizes America.