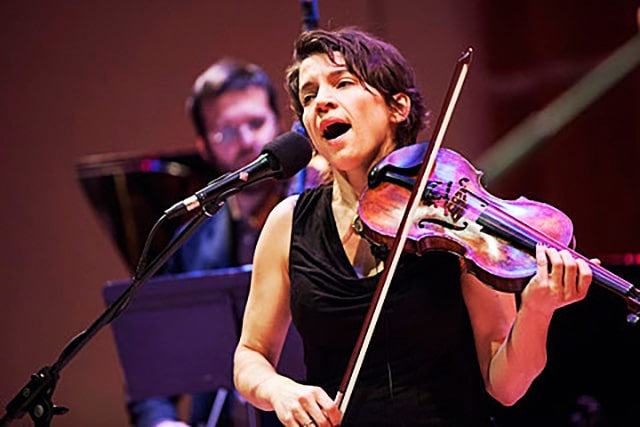 Carla Kihlstedt
Carla Kihlstedt composer, collaborator, violinist, singer, improviser, educator and instigator. Her musical voice is grounded in the economy and immediacy of song form, which allows her to explore complex worlds – the ocean, dreams, imaginary creatures, the machine age, quarantine – through many different lenses.
Carla's music is a palimpsest, connecting and layering her divergent musical experiences. After graduating from the Oberlin Conservatory, she spent her 20s and 30s creating and performing music with bands/composers collectives including Sleepytime Gorilla Museum, Tin Hat, 2 Foot Yard, Minamo The Book of Knots and Causing a Tiger. Aesthetically speaking, the Venn Diagram of these would all have only one thing in the shared center space: Carla. But they were united by three other things: their musical clarity, their commitment to collaboration, and the deep friendships that grounded them all. She came away from these years with a rich musical language that continues to feed her current work.
Carla has written for the International Contemporary Ensemble, Present Music, the San Francisco Girls Chorus, the Brooklyn Youth Chorus, Variant 6, the ROVA Saxophone Quartet and the Dither Big Band. Her recent work, including Black Inscription (a Rabbit Rabbit Radio production), Herring Run and her upcoming international treble chorus project, Long for This World, investigate the natural world and our place in it. She is currently developing an international environmental project for treble chorus called Long for This World.
Carla has had the pleasure of playing and/or recording with many wonderful musicians/bands, including Tom Waits, Ben Goldberg, Trevor Dunn, Ches Smith, Anna Webber, Mary Halvorsen, Zeena Parkins, Tony Maimone, Tracy Chapman, Madeleine Peyroux, Mr. Bungle and Brooklyn Rider. She has also created soundtracks for choreographers Jo Krieter/Flyaway Productions, Shinichi Koga/inkBoat and Joe Goode Performance Group.
Carla lives on Cape Cod, MA with her two kids and her partner, Matthias Bossi. Along with Jeremy Flower and Jon Evans, they are the band Rabbit Rabbit Radio. RRR releases a work-in-progress song on the first day of every month to their subscribers at RabbitRabbitRadio.Bandcamp.com. At the end of the year they release the collection as an album. Currently they are working on Volume 6.
She is on the faculty of the Contemporary Improvisation Department of the New England Conservatory and the MFA in Composition program at the Vermont College of Fine Arts. She has co-facilitated the Creative Gesture Lab for composers and choreographers at the Banff Centre for Arts and Creativity and is a member of the Climate Reality Leadership Corps.