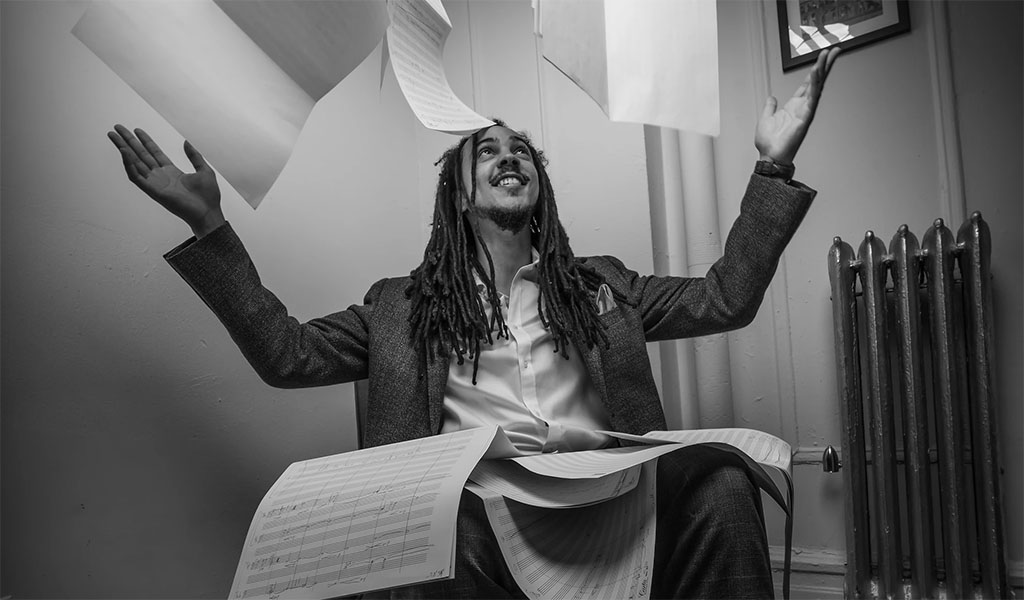 Jessie Cox
Jessie Cox is a critical theorist, composer, drummer and educator currently in pursuit of his Doctorate Degree at Columbia University. Growing up in Switzerland, and also having roots in Trinidad and Tobago, he is currently residing in NYC.
His scholarly writing has been published in Critical Studies in Improvisation, Sound American, and Castle Of Our Skins' blog; and publications are forthcoming in the American Music Review, Positionen Texte zur Aktuellen Musik, and liquid blackness published by Duke University Press. He has presented his work at numerous conferences and festivals such as at Conferences by major organizations such as AMS, SMT, Society for Musicology in Ireland, CUNY's Cecil Taylor Conference, New Music Gathering, Afro-Modernism in Contemporary Music, and NUNC3 and 4 at Northwestern University. At Columbia University he is a co-organizer of the Comparing Domains of Improvisation, a group that facilitates talks by prominent and emerging scholars so as to engage in interdisciplinary meetings around improvisation; which has led to conferences titled New Materialist Approaches to Sound, and Improvisation and Time.
He has written over 100 works for various musical ensembles including electroacoustic works, solo works, chamber- and orchestral works, works for jazz ensembles and choirs; including commissions and performances by LA Phil, Orchestra of St. Lukes, Ensemble Modern, Long Beach Opera, Wavefield Ensemble, Heidi Duckler Dance, JACK Quartet, Steve Schick, Claire Chase, String Noise Duo, ICE Ensemble, Gregory Oakes, Rebekah Heller, Vasko Dukovski, Either/Or, Fonema Consort, Cory Smythe, Kyle Motl, Clara Warnaar, Ryan Muncy, Katinka Kleijn, Promenade Sauvage, Janet Underhill, Greg Saunier of Deerhoof, Pink Noise Ensemble, etc.
As a performer he has played in Europe, Africa, the Caribbean and the USA; with musicians from all over the world including Benny Rietveld, Douglas Ewart, Roman Filiu, John King, Claire Day, Steve Cardenas, Ras Moshe, William Roper, Josh Sinton, Ben Stapp, Sandy Ewen, Lisanne Tremblay, James Ilgenfritz, Julian Shore, Mark Wade, Maher Beauroy, Eric Wubbels, Miyama McQueens-Tokita, Marc Hannaford, Brian Krock, Weston Olencki, Lester St Louis, Sam Yulsman, Barbara LaFitte, Lucy Clifford, Tomas Sauter, Cehryl, etc.
He has been studying composition with George Lewis, Georg Friedrich Haas, Richard Carrick, Annie Gosfield, Seth Cluett, Derek Hurst, Marti Epstein, Alfred Schweizer and Drums with Neal Smith, Tony "Thunder" Smith. Jessie has participated in the Accra Jazz Festival, the Martinique Jazz Festival, Langnau Jazz Festival, The Stone Series (NYC), La Phil's Noon to Midnight Festival (Walt Disney Hall), New World Symphony's Inside the Music (New World Center), Philharmonie Essen Festival NOW!, NUNC3 and NUNC4 at Northwestern University, New Music Gathering, Opera Omaha's One Festival, Bang on a Can Music Series (Noguchi Museum), Italian Academy's Summer Festival, National Sawdust Digital Discovery Festival, Roulette Interpretation Series, OpenICE Library Festival at Lincoln Center, Composers Now Festival, Issue Project Room, Frequency Series at Constellation (Chicago), Mis-En-Place Bushwick Curator Series, String Noise Sounds Series in NYC (Co-Curator), Polyfold, Rhythm and Thought Festival, and won the Leroy Southers Award (2015), Bill Maloof Award (2017). He has been aired on NPR, WBGO, WDR 3, HR2, SWR 2, Martinique 1, Visasat 1, TSF Jazz, WFMU, Fip Radio, ViaATV, France Ô, etc.
Jessie's music can be heard on Aztec Music's Declic Jazz Label, Gold Bolus Recordings and Infrequent Seams, as well as others.
He and projects where Jessie has been a part of have received grants and sponsoring from: the National Endowment for the Arts, California Arts Council, Alliance Francaise, Levedo Stiftung, Lyra Stiftung, Fritz-Gerber Stiftung, Berklee College of Music, Columbia University, Zeta Violins, etc.
Jessie Cox graduated summa cum laude from the Berklee College of Music on scholarship in 2017, with a degree in composition.
Jessie Cox's musical career began when he was only three years old. He took rhythm and solfège training at the music school of his hometown Biel/Bienne in Switzerland. At the age of six years his interest in percussion instruments started showing and he began taking Djembe lessons. This was also the time when he first started composing his own music.
When he was twelve years old he started playing the Drumset in different cover bands and he started taking lessons with the internationally acclaimed latin-music artist Carlos Kort.