KRIS DAVIS no Village Vanguard
CRÍTICAs Novo álbum da pianista Kris Davis mostra seu quinteto Diatom Ribbons em apresentação memorável no mítico clube nova-iorquino…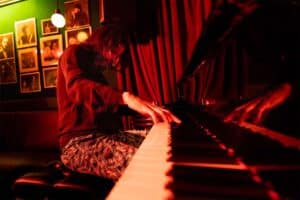 Kris Davis já há algum tempo se firmou como uma artista fundamental da música jazzística mais criativa feita nesses tempos. Improvisadora, compositora e líder de projetos de grande impacto na cena atual, a pianista nascida em 1980 em Vancouver, Canadá, e radicada no Brooklyn nova-iorquino há cerca de duas décadas tem recebido reconhecimento crescente. Seus projetos e parcerias têm expandido fronteiras, para além do fechado mundo do free jazz, o que tem ajudado a levar sua música a mais gente (recentemente, por exemplo, a vimos excursionando com o quarteto de Dave Holland). E isso tem se refletido nos amplos reconhecimentos que vem colhendo. Alguns exemplos: em 2017, ela venceu a eleição do Critics Pool da Downbeat como pianista do ano na categoria "rising star". Em 2022, seria a vez de Kris Davis ganhar como pianista na categoria principal do Critics Pool. Já na premiação anual da Jazz Journalist Association, ela foi eleita pianista do ano em 2020 e 2021. Sua trajetória teve início no começo dos anos 2000; o disco de estreia, "Lifespan", apareceu em 2004. Desde então, foram mais de 20 álbuns editados, afora os registros como colaboradora. Um de seus projetos mais destacados é o Diatom Ribbons. Esse grupo formado em 2019 lançou seu disco de estreia naquele ano, com grande repercussão. E agora retorna para um aguardado novo capítulo.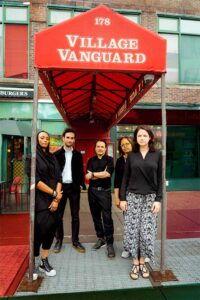 O núcleo do Diatom Ribbons traz ao lado de Kris Davis a baterista Terri Lyne Carrington, Val Jeanty (turntables e eletrônicos) e Trevor Dunn (baixo elétrico e acústico). Se o primeiro registro do grupo contou com a participação de Esperanza Spalding, Tony Malaby e Ches Smith, desta vez quem entra para somar é o guitarrista Julian Lage. Esse quinteto subiu ao palco do lendário Village Vanguard para uma temporada em maio de 2022. É dessas apresentações, realizadas nos dias 27 e 28, que vem esse novo álbum. Diatom Ribbons – Live At The Village Vanguard é um disco duplo no qual Davis apresenta a amplitude de suas influências e interesses. Formada em música clássica, ela tentou primeiramente adentrar a cena jazzística mais tradicional, mas acabou mesmo se encontrando no universo do free impro. E toda essa sua trajetória vai ecoar aqui. "My influences are wide-ranging", diz Davis no release de apresentação do álbum. "And I'm always trying to digest them and filter them through my own language and concept. With this music I wanted to be more overt about some of the influences that have shaped me and that continue to shape me." O disco duplo tem 11 faixas, entre composições de Davis, muita improvisação e particulares releituras de Wayne Shorter ("Dolores"), Ronald Shannon Jackson ("Alice In The Congo") e Geri Allen ("The Dancer"). Há também uma peça, "Nine Hats", que faz referências a Eric Dolphy ("Hat and Beard") e Conlon Nancarrow ("Study No. 9 for Piano Player"); esta faixa é altamente climática, com estranhas combinações de camadas eletrônicas entrecortadas por intervenções pontuais da guitarra e das ondulações percussivas. As explorações seguem, com os ouvintes desavisados sendo surpreendidos com outros ecos de outros tempos: samplers de vozes entrecortarão o espaço em "VW" (com Sun Ra sendo convocado), "Bird Call Blues" (com Paul Bley e Olivier Messiaen!) e, a que mais pega: Karlheinz Stockhausen, em fala sobre sua Intuitive Music, vindo lá de 1972, na faixa "Parasitic Hunter", possivelmente a melhor peça do registro.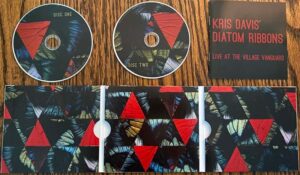 Todo esse caldeirão soa perfeitamente coeso e bem alinhado, em uma música de grande inventividade que, se parte de um quarteto jazzístico tradicional (piano, baixo, guitarra e bateria), amplia os horizontes com DJ e a própria Davis indo além, ao trazer para o palco também piano preparado e um sintetizador Arturia Microfreak. Uma combinação inusitada de sonoridades, que abre em muito a música criada e apresentada a horizontes muito estimulantes e artisticamente renovadores. Diatom Ribbons – Live At The Village Vanguard se revela uma longa viagem pelo mundo imaginativo-sonoro de Davis, à qual ela nos convida e conduz com precisão e encanto, indo de momentos em que sua voz de pianista de jazz fica mais proeminente a outros em que sua face de experimentadora e exploradora sonora se revela em toda sua potência. O álbum, forte candidato a listas de melhores do ano, será editado em 1º de setembro pelo Pyroclastic Records, em CD duplo e digital.
*quem assina:
Fabricio Vieira é jornalista e fez mestrado em Literatura e Crítica Literária. Escreveu sobre jazz para a Folha de S.Paulo por alguns anos; foi ainda correspondente do jornal em Buenos Aires. Colaborou também com publicações como Entre Livros e Jazz.pt, de Lisboa. Nos últimos anos, tem escrito sobre música e literatura para o Valor Econômico. É autor de liner notes para os álbuns "Sustain and Run", de Roscoe Mitchell (Selo Sesc), "The Hour of the Star", de Ivo Perelman (Leo Records), e "Live in Nuremberg", de Perelman e Matthew Shipp (SMP Records)